Nyahallo
Regular price
Sale price
$162.83
Unit price
per
Sale
Sold out
This is a pre-order item expected to ship NOVEMBER-DECEMBER 2023.
Inspired by Fischl von Luftschloss Narfidort from Genshin impact, this bag is a scintillating take of our fave chuunibyo Prinzessin. All of Fischl's details and emblematic elements are displayed in full glory, from the front, sides, back, and even the bottom of the bag. Perfectly pleated frills along a shapely top flap - neatly adorned with a central ribbon complete with a tiny purple gem befitting our electro investigator herself. No details or personality characteristics are lost with this elegant bag which is intricately detailed and eyecatching - it is truly as much of a work of art as much as it is a bag. High quality and solid, this large sized bag can carry plenty of items such as your iPad or tablet, phone, airpods, Nintendo switch, a wallet, and much more! It conveniently opens with a metal lock and is super easy to use.
This bag comes with a 2 straps and can be worn shoulder, crossbody, and as a backpack. 
You can attach the straps to any hook or connector on the bag to wear it how you want.
Characters belong to Mihoyo
BAG DETAILS + FEATURES
♡ Created with PU (vegan/faux leather)
♡ 
Measurements
(LxWxH):
 30x10x24cm (not including handle)
♡ Gold coloured 
hardware
 and accessories
♡ Inner deep purple lining interior with 3 pockets
♡ Convenient and easy lock opening
♡ Comes with 2 a
djustable straps for versatility:
 Adjusts up to 105cm for both shoulder, backpack, and crossbody wear ♡

Disclaimer: This item is an unofficial merchandise designed by Nyahallo (@NyahalloShop) and directly inspired by Genshin Impact characters. Fanmade merch is allowed by Mihoyo in small batches as stated by 

Genshin Impact Official Rules

, which Nyahallo abides by. More information can be found as follows: 

https://www.hoyolab.com/genshin/article/381519
Share
View full details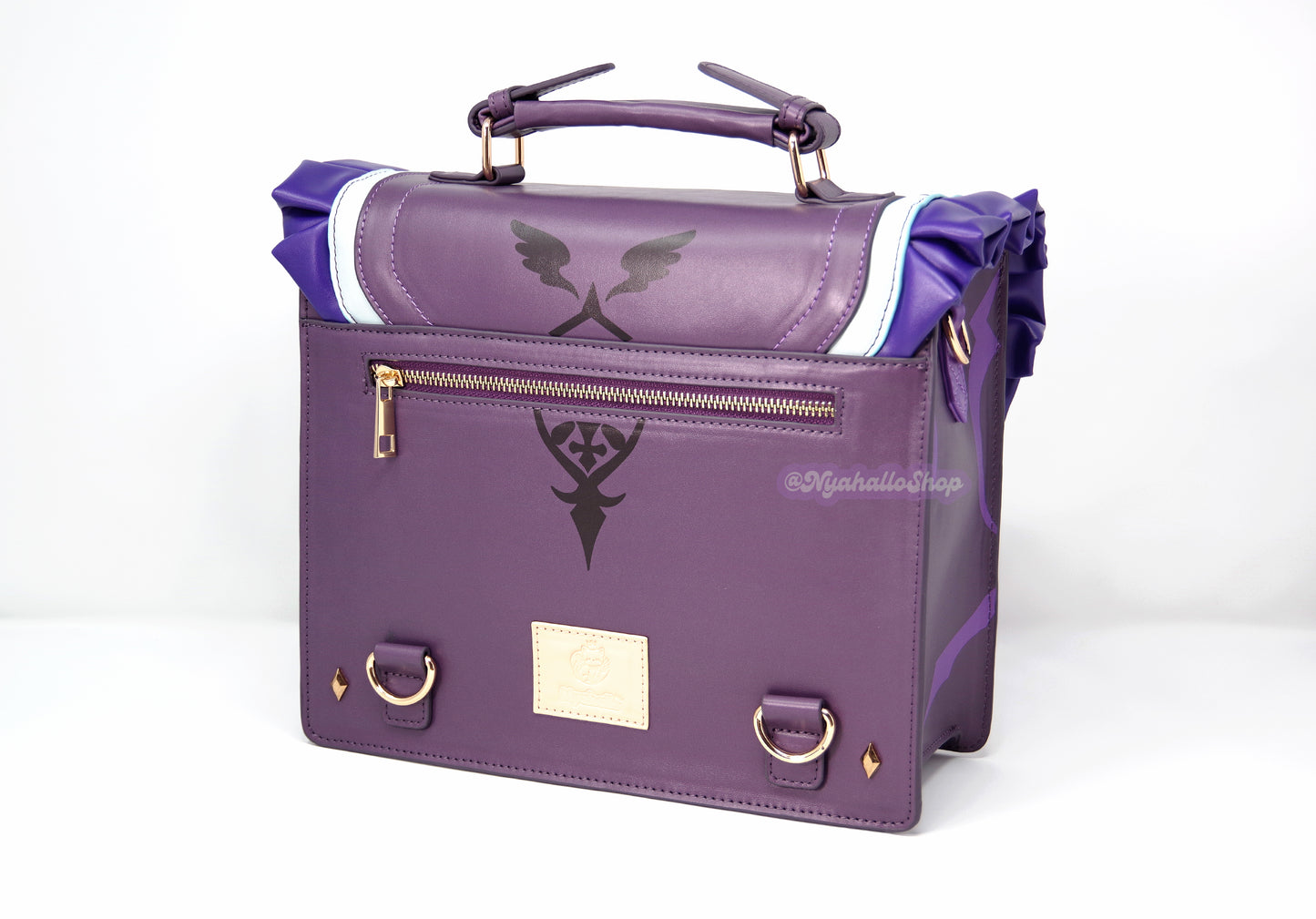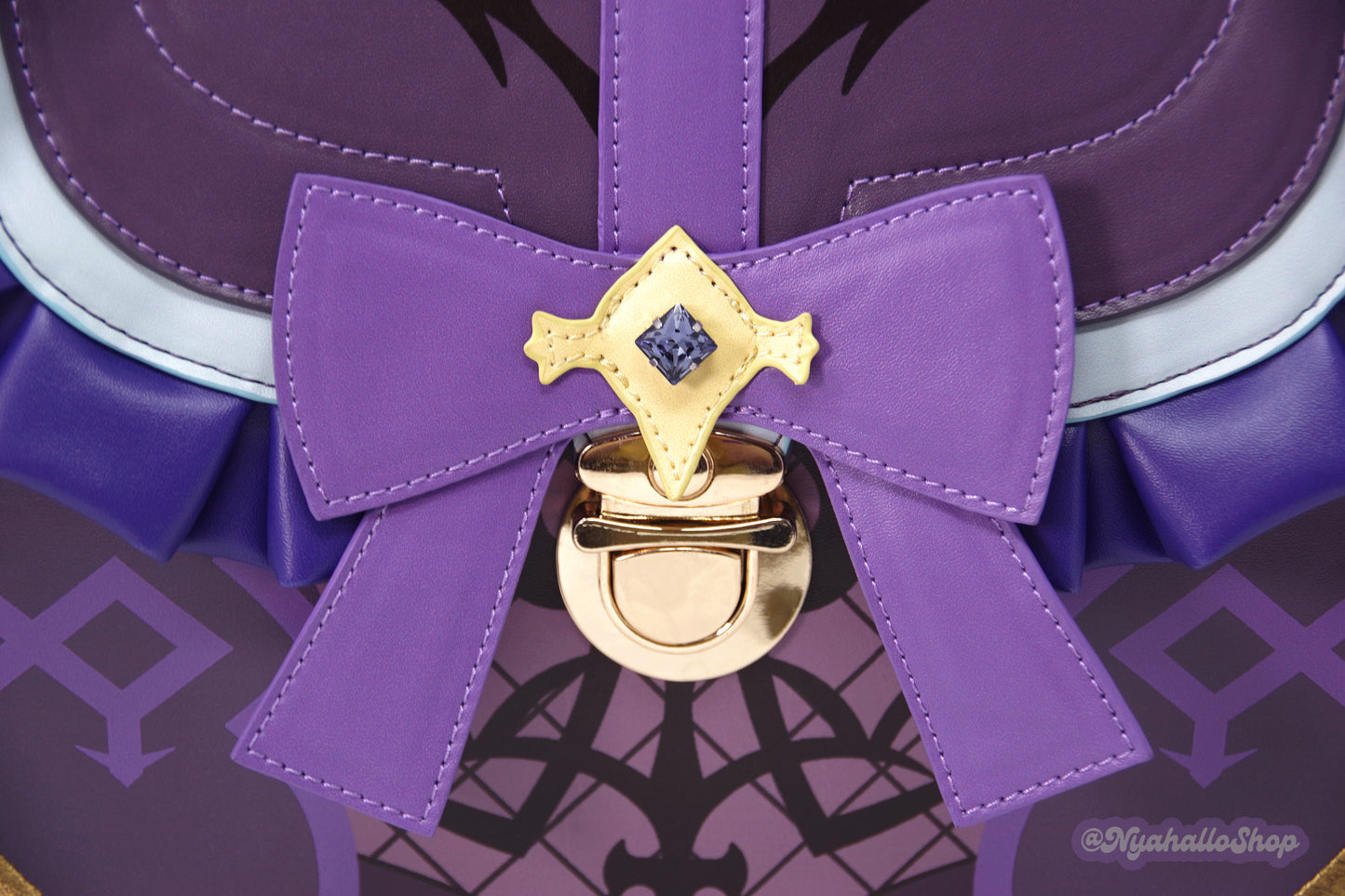 All our clothes are designed with love by Jen & Ana. Small batch. Sustainable. Inclusive.
Shipping info

SHIPPING & TRACKING 

♡ When will my order be shipped?

For in-stock items, our current shipping and processing times are 1-5 business days, subject to Canadian holidays. For pre-order items, you can find out more details on our pre-orders updates page or the item listing itself :) 

♡ What should I do if the order is delayed?

Unfortunately, we cannot control the transportation process of the shipped packages. Please get in touch with the carrier for any delays/changes in delivery time.

♡ Does shipping include tracking?

All of our packages are sent with tracked shipping ONLY. 

♡ How do I check shipping prices?

You can check shipping prices by inputting your address upon checkout.

♡ Can I combine orders and shipping?

As long as the items haven't shipped, absolutely! Please contact jen@nyahallo.com.

♡ Where do you ship to?

We ship to most countries internationally, however there are a few countries our standard carrier does not ship to. Please see the next question if your country does not show up upon checkout. Shipping rates vary based on weight and distance; estimated cost will be calculated at check out.

 ♡ My country doesn't show up upon checkout but I would like to order, what should I do?

Please email jen@nyahallo.com and we can arrange an international carrier to ship your order. Please keep in mind international rates can be very pricey and understand we are not responsible for customs charges and/or fees.

♡ I wrote the wrong address, what can I do? 

Please contact the shipping provider for more information if the package is lost. We can't edit addresses once the order has shipped. You, the customer are responsible for providing a complete and correct address. We are not responsible for incorrect addresses, so please ensure your address is correct and complete. If the item has not yet shipped please email us immediately to change your address.

♡ My package is lost or stolen, what do I do?

Once the package is scanned and marked as delivered, our responsibility ends here. Once your package was already shipped out and USPS officially claimed delivery, we unfortunately no longer have control over the process. As such, please contact your local USPS at 800-522-9085 to help locate your package, supplying the tracking number associated with your order. If after a week, your package is still haven't arrived, you can file a missing mail request on the USPS website and they will help locate the package for you. 

On the chance it was stolen, report it to the US Postal Inspection Service if it still can't be located. https://postalinspectors.uspis.gov/ 

We are not responsible if a package gets lost or stolen. It is the buyer's responsibility to provide a safe location for the delivery of packages.

If the tracking number shows that your item is delivered, we will not issue a refund or replacement under ANY circumstances.

RETURN/REFUND & CANCELLATIONS

♡ Can I cancel my order? We only accept cancellation requests within 12 hours FOR IN-STOCK ITEMS ONLY. Please email jen@nyahallo.com. We do not offer cancellations on pre-order items.
Have a question?

Contact me at jen@nyahallo.com or alternatively, fill out this form.